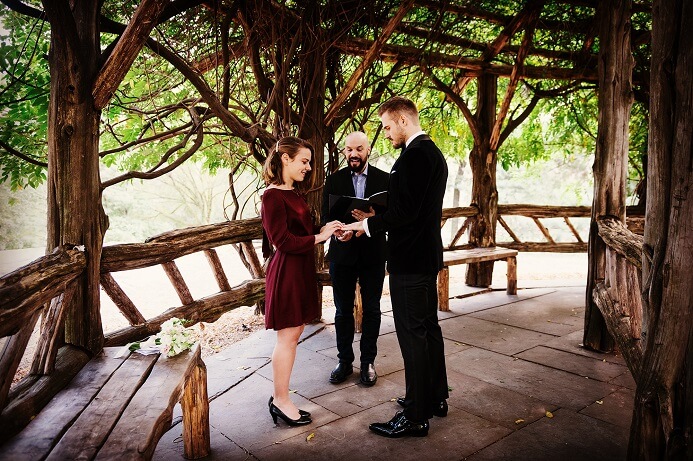 Bio
Alex is an energetic and enthusiastic bilingual officiant that specializes in adding personalization, down to earth delivery and warmth to your wedding ceremony. With a background in Theatre, Public Speaking and Communications, Alex writes hand crafted ceremonies and caters to your needs in non-denominational, spiritual or religious-style ceremonies. Alex creates special services for couples based on their interests and lives. He can perform in both English and Spanish for couples of any pairings that want to make their day a memorable one. With his services he can provide comfort, a friendly nature and enthusiasm to make sure that your ceremony will go with ease and clarity and the love and respect that it deserves.
FAQs
What inspired you to become a wedding officiant?
I was asked by dear friends of mine to marry them many years ago, and fell in love with the process. I have never looked back since and love to treat my couples just as good as my very own good friends.
Can you describe your approach to working with each wedding couple?
After establishing a connection through email and phone consultation, we would discuss the order of the ceremony, what you would want included and even assist with vows if you decide to write your own for your ceremony. I approach each and every couple with care and attention to detail as well as honor and respect wishes of all denominations.
What do you enjoy about officiating weddings in Central Park?
The open air, the energy and spontaneity of the moment and the ability to have Central Park as the beautiful backdrop in the capital of the world is like no other. Each ceremony is characterized based on location and it takes its own form, which keeps Central Park Weddings so exciting to do.
Tell me about some of your most memorable weddings in Central Park or NYC!
After officiating in Central Park for several years, it never gets old. I always discover new portions of the park to perform ceremonies. Secluded nooks, lakeside landings, tops of hills and amazing spots adjacent to trails, all accessible to convenient entrances. There is always something new to discover and find, and that is the joy of Central Park Weddings. Each ceremony is its own story, it's own chapter and it allows the wedding to take its own shape based on the couple and the location.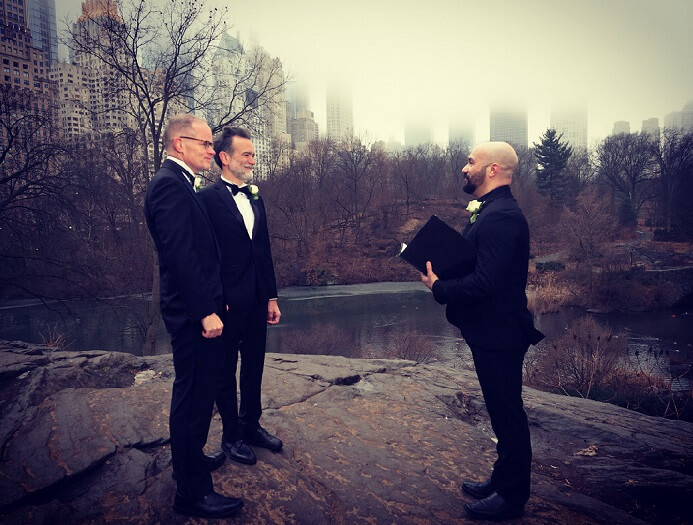 Testimonials
"From the first conversation with Alex, it felt like I knew him forever. He created a heartwarming and memorable ceremony"
~ Erin O'Connell & Aaron Goldberg 5/19/2019
"Alex was the perfect addition to our ceremony. It couldn't have been more perfect without his experience, listening & insight."
– Rachel, 11/05/2019
"His presence and personality, not to mention how he catered the ceremony to fit us personally, was amazing. He has incredible stage presence, with words that were kind, funny and emotional."
– Mariel & Jordan, 12/05/2018
"Alex was attentive, upbeat and he made our ceremony so special and memorable. I'm a Wedding pro – have planned 250+ weddings over the course of my 12 year career here in NYC. When it came time for my own wedding I wanted something sincere and simple and Alex was a perfect fit!"
– Carly M., 5/08/2020
"Alex was an outstanding officiant from the word 'Go" – He responded quickly, was easy to work with, and delivered a touching ceremony. He is well-spoken, warm, and professional. We had planned a large event that was cancelled due to Covid, but he ensured that our smaller, more casual event felt just as much as a 'real' wedding. Thank you Alex! highly recommended."
– Lynn, 4/25/2020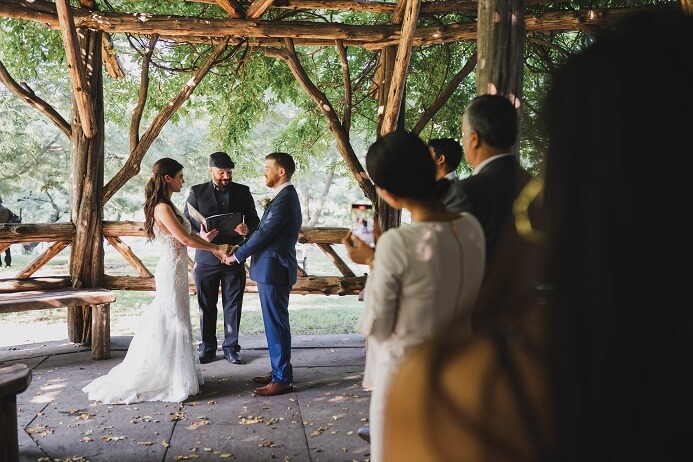 Instagram: @nynjweddingofficiant